Y-ADM meetup: what can we learn from Gen-Y programmes in other companies?
If you're in charge of running your company's GenY programme this is your chance to connect with colleagues from other organisations and share ideas & best practices on what young people want, how they want it, ...  At the same time, we hope to hear form you what you expect from us in the future!
Read the report
Much of our innovative work was inspired by experiences shared at ADM
Gert Vanhaecht
CIO Belfius Insurance - Belfius Insurance
How ING moves to a real Engineering Culture
Something's afoot at ING! Besides Uniting ING BE and NL, the company has the ambition to become a Tech company with a banking licence, competing with Google, Netflix and others for the top engineers in the Market.  To achieve this goal, Peter Jacobs, CIO of ING Netherlands, introduced a true engineering culture, reinforced by the Dreyfus Maturity model. A high performing, true engineering workforce, operating in an agile model.
During this exclusive session, Peter Jacobs will share all about his passion for a true engineering workforce and how to get there.
Read the report
Inspiring Innovation @ Telenet Innovation Center
'Collaboration is the key to innovation'. That's what Ineke Rampart (Director Corporate Affairs) and Rajiv Seesurn (Director Telenet Innovation Center) told us during their presentations at the Telenet Innovation Center. 
Read the report
License to fail
Are you convinced that failing is something negative? You won't anymore after these tips! 
Read the report
From Image to Imagination: Connect with Christian Reinaudo & Caroline Van Rompuy
New technologies forced Agfa Gevaert to look for other business opportunities in order to expand their reach. The digital challenges that accompanied the necessary shift turned out to be a rewarding effort for IT...
Read the report
Be inspired by the Young ICT Lady 2018, Laurence Schuurman
What was that famous saying again? "Save the best 'til last"? We're not claiming that this session topped every single one of our great events in the past year, but those present agreed that Laurence Schuurman made sure that this was a memorable closing of another great year at ADM.
Read the report
ADM Reception 2018
What a rollercoaster the past twenty years have been. This year's annual ADM reception, organized around our twentieth anniversary and hosted by VRT's ravishing presenter Ihsane Chioua Lekhli, was an opportunity for our network to look back and forward. 
Read the report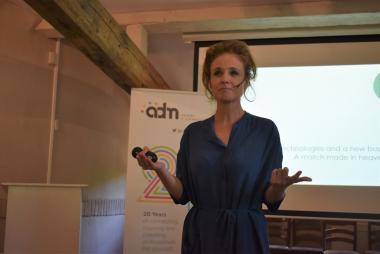 How Social Technologies can help you create a New Culture
Are Social Technologies and a new business culture a match made in heaven? Our members & partners joined us in De Jachthoorn to get all the answers from Isabel De Clercq, author of "Social Technologies in business"
Read the report