License to fail
Are you convinced that failing is something negative? You won't anymore after these tips! 
Read the report
From Image to Imagination: Connect with Christian Reinaudo & Caroline Van Rompuy
New technologies forced Agfa Gevaert to look for other business opportunities in order to expand their reach. The digital challenges that accompanied the necessary shift turned out to be a rewarding effort for IT...
Read the report
Be inspired by the Young ICT Lady 2018, Laurence Schuurman
What was that famous saying again? "Save the best 'til last"? We're not claiming that this session topped every single one of our great events in the past year, but those present agreed that Laurence Schuurman made sure that this was a memorable closing of another great year at ADM.
Read the report
ADM Reception 2018
What a rollercoaster the past twenty years have been. This year's annual ADM reception, organized around our twentieth anniversary and hosted by VRT's ravishing presenter Ihsane Chioua Lekhli, was an opportunity for our network to look back and forward. 
Read the report
ADM is a place where you can get new ideas that are directly applicable in your own organisation!
Nancy De Vogelaere
Dinobusters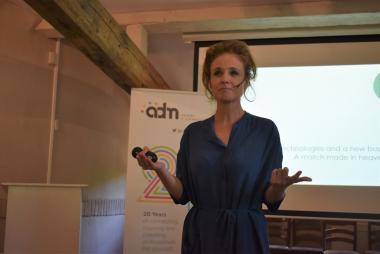 How Social Technologies can help you create a New Culture
Are Social Technologies and a new business culture a match made in heaven? Our members & partners joined us in De Jachthoorn to get all the answers from Isabel De Clercq, author of "Social Technologies in business"
Read the report
Build your business case for an IoT project
"We need an IoT project" is not a good argument when you want to implement IoT in your business. But how do you do it? Where do you start and what do you need to take into account when building a business case? After our first and second sessions on Internet of Things we used this final session to break down the process into 6 steps for our members & partners to follow!
Read the report
We're not speeddating, we're speedbowling!
What happens when you put our board members and Y-ADM'ers together in a bowling alley? You get a lot of fun, some excellent bowling and, most of all, some textbook networking. In short; a great evening was had by all at ADM's first ever Speedbowling!
Read the report
Let Philippe De Backer guide you through the new GDPR!
If one of your partners, Deloitte, invites your board-members to come and listen to Philippe De Backer, State Secretary for Privacy, it's simply an offer you can't refuse!  Main theme of the session: the unhyped version of the GDPR story that answered one question: What purpose does the GDPR really serve?
Read the report